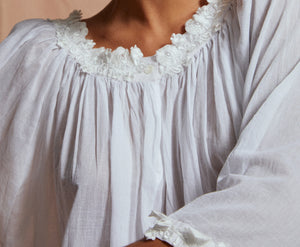 Our Materials
Our nightwear is made from 100% natural materials: cotton or silk. They are the backbone to our designs; helping us create romantic yet comfortable, breathable nightwear. All our styles are designed to make you feel wonderful, but they are also entirely practical. They all wash beautifully and get softer over time.
Our beautiful materials are expertly sourced in India by our suppliers who we have been working with for over 10 years. We might be biased, but we strongly believe that Indian cotton is the best quality in the world (it was in India after all that it was first farmed over 5000 years go).
All our embroidery is hand-stitched or hand-smocked by exceptionally skilled Indian women. The tension of thread may therefore vary due to being perfected by hand.
We bang on about our materials all the time but are aware that you might want to know the difference between the variation of materials we use and reference on our product pages.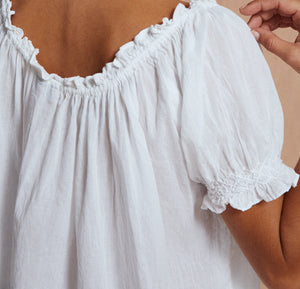 Cotton Voile
Voile is a butter soft delight of a cotton; lightweight, breathable and the sheerness varies depending on the three different weights that we offer. It has the highest thread count/lowest weight of the cotton fabrics we use, which results in an exceptionally light and delicate feel on the skin.
Why we love it? The effect it creates for sleep, as though you are wearing nothing at all.  From a design perspective, the way it lends itself to romantic drapery is unmatched – like something from a Renaissance sculpture. 
What you may not love? Its lightness means it is quite sheer but many of our designs are carefully constructed (ie double layered at the bust/acres of pleating over chest) to help with modesty. If you have teenage sons (we get it) take a look at our slightly heavier fabric choices (Cambric and Twill) or our dressing gowns and cashmere shawl cover ups.
Fine Cotton Voile
Our finest cotton voile is perfect for the summer or for those who run slightly warmer. It is so wonderfully soft and our lightest and most sheer cotton.
Mid Weight Cotton Voile
Our mid weight cotton voile is still exceptionally soft whilst providing a little more coverage and washes beautifully.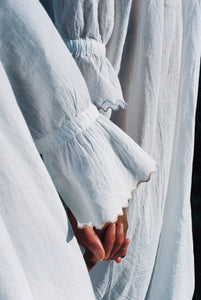 Cotton Cambric
Cambric, a medium weighted cotton weave is a slightly thicker yarn than cotton voile. As such, it's somewhat less sheer whilst washing beautifully (30 degree please, no tumble drying) getting softer and softer after every wash.
Why we love it? Cambric manages to have beautiful lightness to its weight while being slightly thicker and less sheer than voile. 
What you may not love? Still not 100% opaque but for the lightness on the skin and 'floaty' effect, it's a winner in our eyes.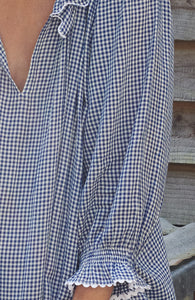 Cotton Twill
Cotton twill is deliciously cosy. Woven diagnolly by artisans in India, our twill is still buttery soft and light as a feather whilst providing total coverage.
Why we love it? Exceptionally soft and cosy, our twill is primed to see you through the winter months.
Why you may not love it? If you run slightly warmer whilst you sleep, you may prefer our lighter weight cottons.