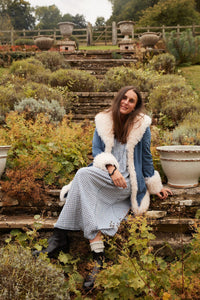 Our Story
We are a small family business creating seasonless, timeless and consciously made designs for every generation of women. The business was started by Issy Falkner in 2011 and taken over by her daughter Emily Campbell in 2020.
We believe the reason nightgowns have been around for centuries is because of their feminine elegance as well as being a deeply comfortable, classic item. These elements are core to each piece we create.
We only use 100% natural, breathable materials in our nightwear not only to ensure a comfortable nights sleep but also because of it's sustainable, bio-degradable nature. Our designs are simple, yet effortlessly beautiful with exceptional craftsmanship in the detailing of each design.
But we have further priorities as a brand beyond making beautiful items. How and who make our nightwear is vital to our ethical priorities. Indian cotton and silk is, in our opinion, the very best in the world and we have been partnering with our wonderful suppliers in New Delhi for over 10 years now. Our small factory is SEDEX certified which means that they protect the people working in their supply chain and maintain high social and environmental working conditions. These include; being paid above the living wage, insurance and pensions given to all, an 8 hour working day and 22 days holiday a year.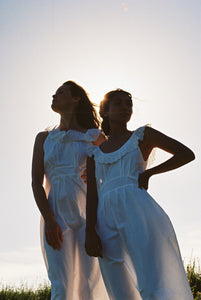 Slow Fashion
We never mass produce our designs, preferring a slow approach to our process where each nightie is part of a small batch. Our production line in Delhi is also short; our factory has in-house pattern masters, tailors, cutting teams, stitching team and packers.
Further to this, as of 2021 we made the conscious decision to extend all new styles up to a UK size 24. We hope to have a complete collection reflecting this size range by the end of 2022.
If Only If Nightwear is for every woman, no matter their age or size. We want our customer to be buying safe in the knowledge that their item is beautifully designed, made from natural materials in ethical conditions and in a slow, sustainable fashion.